Gabions wire mesh welded into the form of boxes or cages, square hole or hexagonal hole structure, Galfan, zinc coating, electro galvanized and green plastic coated. For seashore fencing, rockfall protection and flood control.
Gabion boxes are made of wire mesh panels square hole or hexagonal hole welded into a three dimensional steel structure, with spacing to hold stones. Schanskorven gabions with different hole shapes shows various properties and structures. The square hole mesh gabions are normally Welded Gabions with a rigid shape. The hexagonal opening mesh gabions are made of double twist wire mesh ensuring the integrity, strength and uniformity of load distribution and prevents unwinding in case of rupture of the grid. According to surface treatment,Schanskorven supplies four types of gabion boxes, galvanized mesh gabions, hot dipped galvanized wire gabions, Galfan gabions or PVC coated gabion boxes. Galfan coated gabions wire boxes are becoming more popular compared with zinc coating in recent years. This is a new finish type for gabions using 5% aluminum mixed alloy steel wire coating to strengthen the properties.
The designs (illustrations below) are divided into sections by means of diaphragms mounted inside the gabions every meter in length. To reduce the cost for installation of gabion structures using gabions box-large size - the so-called gabions Jumbo. They have a length from 3 to 6 meters at a height of 0.5 m. Standard wire diameter - 2.7 mm, the diameter of the wire edges (to enhance the framework gabion) - 3.4 mm. Cell depending on the purpose of gabion size 8x10 cm and 6x8 cm size gabion may be arbitrary, but must take into account the stability of the gabion structures, which will be greater, the greater the gabions at the bottom.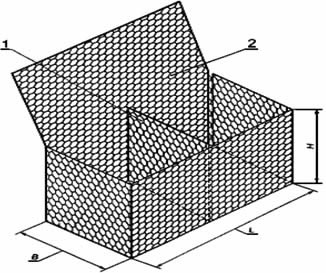 Hexagonal Hole Gabions Box
Design Drawing Illustrations
B - width of the gabion box panels; L - length of the gabion mesh sheet, H - height of gabion box panels
1 - Diaphragm; 2 – cover ceilings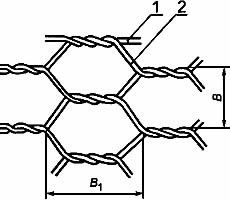 Double twisted hexagonal mesh structure gabions
Not:
1 – wire edge; 2 – the main wire; В – the size of the cell; В1 – the diagonal of the cell
Varieties of Schanskorven Box Shape Gabions:
Welded Mesh Gabions, Square Holes
Hot-dipped Zinc Plated Gabion Boxes
Gabion boxes made with hot dipped wire galvanizing can provide greater resistance to chemical, mechanical and corrosion damage.
Specifications:
Hot-dipped galvanized, thickness of zinc: 245g/m2-275g/m2
Mesh Wire: 3.0 mm
Selvedge Wire: 3.9mm
Lacing Wire :2.4mm
Boxes sizes: 2mx1mx1m
Weight: 18kgs/pcs
Packing: Plastic outside
Special specifications can be required.
Galvanized Gabion Boxes
We can also provide different types and specifications of galvanized gabion box. This gabion box is made with super quality galvanized steel wire, welded or twisted mesh structure.
Galvanized gabion box
1: Galvanized Gabion Boxes (2.0 x 1.0 x 1.0m)
Mesh size: 80x100mm
Mesh wire: 2.7mm GI
Selvedge wire: 3.4mm GI
Binding wire: 2.4mm
5% FOC
2: Galvanized Gabion Boxes (1.5 x 1.0 x 0.5m)
Mesh size: 80x100mm
Mesh wire: 2.7mm GI
Selvedge wire: 3.4mm GI
Binding wire: 2.4mm
5% FOC
3. Electro galvanized gabion box specifications:
Finished: Gabion box (ELECTRO GALVANIZED).
Gabion Cage Common size: 2mx1mx1m, 3mx1mx1m
Mesh type: 100x120mm (Double torsion)
Wire Diameter : 2.7 - 3 mm.

Galfan Gabions: Alternative to zinc plating, this aluminum 5% alloy mixture coating layer offers much better strength and corrosion resistance to the finished gabions surface.
| | |
| --- | --- |
| | |
| Galfan Coated Gabions New Coating Type | PVC Coated Gabion Boxes |
PVc coated gabions are normally made of Double twisted Galvanized hexagonal wire mesh sheet welded into box structures.
Mesh Type:10x12"D"(mm)100.
Wire thickness: 2.7 -3.7mm.
Mesh size: 100mm.
Size:1.5m x 1m x1m and 2mx1mx1m

Gabions are mainly used for construction of retaining falls, building of embankments of roads and railways, river and sea shore protection, landscaping, stabilization of soil erosion and conservation of soil. Due to very good hydraulic characteristics are used for shore protection of rivers, construction of weirs and dams. Gabions with PVC coating used to protect the coasts.

History of Gabion Box: Box-shaped wire mesh gabions in the world have been used for over 100 years. For the first time as a reinforcing material of construction gabions have been used in France in the early 19th century. It is noteworthy that these early structures are functioning properly until today. Gabion can be used to reinforce slopes, hillsides, embankments, cuttings, gullies, road-bridge structures. In some areas, gabion structures, until recently, had limited application and used only to strengthen the embankment slopes. Experience shows that the construction of gabions is an alternative way to protect road-bridge slopes.

The use of gabion box structures is a highly effective and versatile way to not only strengthen the slopes, but also enhance, stabilize and protect the exploited subgrade, bridge supports, regulatory dams, coastal, and other structures. Performing protective functions of fortification, gabion structures can serve as a reverse filter, and in some cases they can be used to provide impervious events.

Currently known and widely used for more than 20 types of building slopes: grass cultivation, planting shrubs, planting, thermal protector and protective layers using geotextiles, prefabricated concrete lattice, clay soils, surface and solid lattice, flexible concrete slabs, prefabricated reinforced flexible grid, precast concrete and reinforced concrete slabs, monolithic reinforced concrete slabs, riprap, and others.

Specifications and testing parameters of gabion box:
Mesh Type:10 x 12 "D" mm (100).
Mesh size: 100mm.
Tolerance: +16 to -4%.
Diameter: 2.7mm ID /3.7mm OD.
Thickness of PVC coating: Nominal 0.5mm .minimal 0.38m.

Characteristics of components with respect to mesh wire diameter:
Mesh wire: 2.7/3.7mm.
Sledge wire: 3.4/4.4 mm.
Lacing wire: 2.2/3.2mm.
Stiffeners: 2.2/3.2mm.

Testing and acceptance:
Material used for production of wire is mild steel as per BS-1052/80 or ASTM-241-92 Class 3 having tensile strength of 350mpa to 500 Mpa. Minimum elongation of 10% at breaking load performed on gauge length of 250mm
Coating: all the wires are heavily zinc coated with hot dipped galvanization process according to ASTM/A-641-82 BS 443-82 with min. zinc coating of 240gms per square meter for the wire of dia 2mm) additional coating of PVC shall be provided.
Gabion wire size example: Gabion wires with tensile strength 38 - 55kg/mm² according to BS1052 & Zinc coating layer 260 - 300grm/m² according to BS443, mesh wire 2.7mm, selvage wire 3.4mm, and lacing (tie) wire 2.4mm. with gabion cells 60 × 60 × 30 cm, opening 30 mm.

Gabion box application: Bank stabilization; Reinforcement of soils; Strengthening of slopes and embankments; Protection against rockfalls, avalanches, debris flows; - Retaining walls; Protection of subsea pipelines; Landscape Design; Strengthening of the bottom waters and sea ports fencing.